Residential Roofing
Whether the sun is beating down on a home or a rain storm is overhead, shingles will be used to protect a home from the elements. Vanderpool Roofing is an industry leader in shingle replacement and installation.

Commercial Roofing
For over 35 years, Vanderpool Roofing has provided commercial roofing services in Kingsport, Tennessee.

Need a Quote
---
Thank you for contacting Vanderpool Roofing, LLC, a representative will contact you shortly.
Do you have a roofing problem? Vanderpool Roofing, LLC will solve your problem.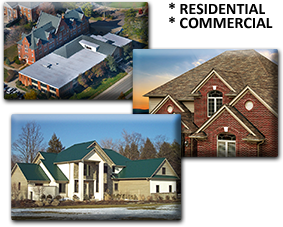 Vanderpool Roofing, LLC specializes in solving roofing problems for commercial properties and residences.
Our motto
We Solve Flat Roof Problems
is more than a catch phrase for us, its a way of doing business we stand behind.
We have found thru the years, our customers depend on us to educate them on the proper roofing solution or roofing system for their problem. Commercial properties depend on our ability to suggest the latest in flat and green roofing technologies. Now more than ever companies are looking for green solutions to reduce their carbon footprint. We are fully educated, licensed and insured for all the latest flat and green roofing techniques.
Vanderpool Roofing, LLC provides the same education, license and insurance to our residential roofing services.Choose from dozens of residential (asphalt) roofing products as well as lifetime warranty options.See your shingle options come to life in high res images and virtual roof building tools in our Residential Roofing section.If you have a roofing problem, call for an estimate and let Vanderpool Roofing, LLC solve your problem today.